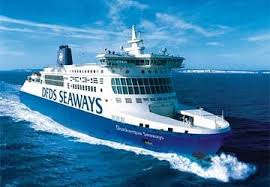 Alongside Cammell Laird and A&P SeaKing has completed a raft of maintenance and repair contracts in recent months on many ships of leading ferry operators including Caledonian MacBrayne, IOMSP, P&O and DFDS Seaways.
A recent project saw SeaKing replacing all the winch fwd and aft winch control stations and controllers with all works being pre-planned to enable completion within the short term dry-docking period.
SeaKing has built a strong reputation in the ferry market in particular delivering green technology aimed at reducing vessels' carbon footprint, with a number of ships being fitted with modern technology including LED lighting and the fitting of variable speed drives (VSD) for seawater pumps and Ventilation fans.
SeaKing Group Business Development Manager Neil Mellenchip said "Efficiency savings are now a vital part of business plans for marine companies and our drives and lighting solutions not only cut costs but also reduce harmful emissions from vessels,".
Controlling flow via mechanical devices such as bypass valves and air dampers is both inefficient and expensive to maintain especially as the motors often operate at full capacity even when not required, therefore by integrating and automating the VSD controls into the original control system it enables the operators to control the speed of these pumps according to demand, reducing fuel and energy use as well as cutting CO2 emissions.
The ship/ project bespoke panels are built at SeaKing's manufacturing plant in Birkenhead and installed at ports across the globe. With an estimated payback period of less than two years it which shows their value to ferry operators.
SeaKing has also committed many hours into researching the developing LED lighting market to be able to determine and offer the best equipment and solutions for each individual project again helping operators cut costs and meet international environmental targets.