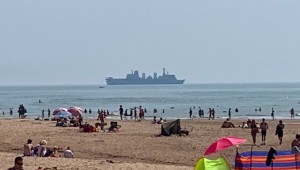 20/08/2020
As people ease out of lockdown and make the most of their local beaches, sighting's of larger vessels in the Channel has started to become a frequent occurrence reported on social media and local news feeds.
The most recent of these breath-taking views this month was one of the Ministry of Defence's largest vessels – The Royal Fleet Auxiliary Fort Victoria which was visible from beaches around the coast of Devon.
Spring 2019 The SeaKing Group completed a major refit involving the Auxiliary Oil Replenishment ship RFA Fort Victoria.
Read the full case study here