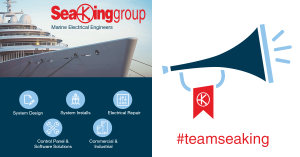 16/03/2020
Thank you to our office team for their continuous support, and a big congratulations to Abigail for her dedication and hard work to SeaKing attaining value-added qualifications over the years.
At the SeaKing Group, we pride ourselves in providing industry-leading marine electrical services. We have an experienced engineering team and also recruit apprentices and train them to be the most highly-skilled. Our success over the last 20 years is not only because of the engineers but importantly because of our office team who work hard in the background working with our clients and supply chain.
Abigail's Journey so far…
Abigail joined the company in 2014 as an admin apprentice completing level 2 and 3 in Business Administration by 2017.  Alongside her role, Abigail went on to complete Level 3 AAT Advanced Diploma in March 2019. Now Abigail is studying for her Level 4 Professional level qualification which she hopes to complete by 2021.
#dedicatedapprentice #supportingourteam #teamseaking #marine