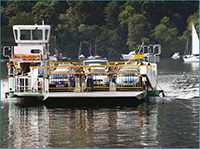 06/08/2018
Merseyside based maritime engineering company SeaKing Electrical has won a tender from Cumbria County Council to repair the electrics on the council-owned car ferry the Mallard following a fire earlier this year.
 The ferry's engine room caught fire in March following a hydraulic leak causing an evacuation of 80 people from the vessel while it was operating on Lake Windermere in England's Lake District. The Mallard has capacity for 100 passengers and 18 cars.
 SeaKing Electrical managing director Dave Gillam, pictured above, said following a damage inspection of the vessel it was clear a complete rewiring job was required together with the installation of a new engine.
 "We are delighted to repair the famous Windermere ferry for Cumbria Council," he said. "SeaKing understands what a vital role the ferry plays, and our team are working now to fix the electrics so it can get back to sailing and supporting the local community as soon as possible."
Mr Gillam said the electrical works required are extensive and a whole new electrical system has been designed to meet inland waterways regulations and an inspection by the Maritime Coastguard Agency (MCA).
"SeaKing has considerable experience of repairing fire damage on ships worldwide ranging from Royal Fleet Auxiliary naval vessels to large commercial vessels in the Mediterranean," he said. "On this job we are undertaking afloat repairs removing all existing cabling and installing new electrics through-out the ship including the switchboard, control room, wheel-house, propulsion systems, lighting and the engine room. A new fire detection system will be installed to protect the wheel-house, engine room, secure room and passenger accommodation."
Mr Gillam said a PA system is being put in place to allow messages and safety announcements to be broadcast in the passenger accommodation and car deck. A cut-out facility will be provided to allow media systems to be over-ridden when a safety announcement is made.
"We are further working on a CCTV system with cameras covering the engine room, passenger accommodation, forward and aft ramps and forward and aft passenger gates," he said. "This is a thorough job with the highest standards of safety being adhered to. We are working closely with the MCA andSeaKing's experienced team are using world-class equipment and parts in line with classification standards. Being afloat repairs we are also ensuring the job is carried out without any pollution to the lake or harm to the environment."
Karl Melville, senior manager at Cumbria County Council's highways and transport service said:
"The Windermere ferry is an iconic and important part of the local community and a ferry has served the Lake District for centuries.  The council is pleased to be working alongside SeaKing to get the ferry back in to action as soon as possible."
This latest job marks a busy year for SeaKing Electrical. The company has worked across the UK and Europe on naval ships, superyachts and ferries.SeaKing presently employs more than 100 engineers, including a vibrant apprenticeship programme. SeaKing has a turnover of more than £8million.
For further details on SeaKing Electrical's services contact its business development manager Neil Mellenchip: T: +44 (0)151 652 4821 E:enq@seakinggroup.co.uk