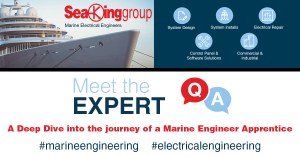 12/03/2020
To this date, we have now proudly employed over 60 apprentices. As a leading marine electrical specialist, we currently employ more than 100 engineers worldwide with a track record delivering projects across Europe, Asia, Africa, the Middle East, Caribbean and USA.
SeaKing Group's CEO Martin Sealeaf said 'Apprenticeships represent a long-term investment for the group, the candidates undergo rigorous panel interviews before securing their roles. SeaKing invests heavily in such schemes because they provide an excellent foundation in technical skill and knowledge. We can then steer the recruits into world-class marine electrical engineers.'
Blaise Cockton has been with SeaKing for over 13 years starting off his career as an apprentice, we had a chat with Blaise to find out about his experience.
Read the full interview here –  Meet the Expert Q&A