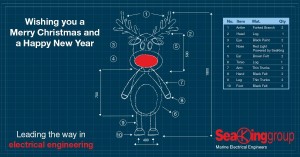 As we approach the end of 2020 we inevitably look back and review the year. It's been a challenge, I think everyone will agree, but business is about stepping up, adjusting and embracing the changes and challenges. Without exception, everyone at SeaKing has done just that.
The work we have done supporting the RFA and Navy with Cammell Laird has continued without pause, as has the call out services we provide for other marine operations. A great achievement considering everything going on around us.
A big thank you to all our employees for making it happen. I have full confidence we will successfully tackle all the inevitable challenges we will face in 2021.' Neil Watson, MD The SeaKing Group.
Wishing all our staff, clients and wider network a very Happy Christmas and Healthy New Year.
#Christmas2020 #marineengineering #Electricalengineering