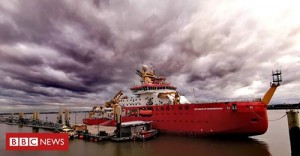 21/10/2020
Today marked the day when Britain's Polar Ship- RRS Sir David Attenborough left Birkenhead the home of Cammell Laird Shiprepairers & Shipbuilders Limited.
Following a four-year build programme, which our engineering team are proud to have had an active contribution – the vessel will be put through its paces for two weeks undergoing technical sea trials in North Wales. All in preparation for 2021 before it journeys to the Antarctic next November.
The British Antarctic Survey says that the new polar ship will "transform UK research in the polar regions" with missions critical to understanding climate change.
photocredit and article by BBC
#climatechange #engineering #sirdavidattenborough #marineindustry #marineengineering #birkenhead